A blog for those who are consumed with a hunger for pervying on maleness and gay hentai sex
Sunday, January 27, 2013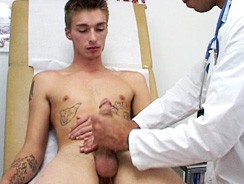 Ashton
My next patient was this 19 year bad boy named Ashton.
Dr.Dick had already gave him his first exam but wanted me to do the follow up.
JOIN COLLEGE BOY PHYSICALS
Posted by

hardtwoholed
at 12:20 AM
No comments:

Saturday, January 26, 2013
CMNM Action gets the best of a straight asshole.
Cocky young Shamus comes poking his nose around the BreederFuckers lair. As a representative for the landlord he feels entitled to stick his nose where it doesn't belong so it's only fair to let him know what happens to prying straight boys. His arms and legs are bound and his clothes are cut off from his body.
Subjected to breath control, his dick, bollocks and ass are fondled and flogged. An anal hook is inserted up his tight rectum. His body is covered in pegs. They are pulled off in one fell swoop while his ass is give a hard whack.
Posted by

hardtwoholed
at 11:48 PM
No comments: